Banks in France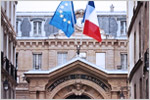 The banking system of France is one of the most developed in the world. It consists of more than 400 banks and includes four main units: the Bank of France, deposit banks, investment banks, and banks providing medium- and long-term loans.
French banks have a reputation of a reliable financial institutions not only in France, but also in the European Union. The largest banking groups in France are: BNP Paribas, Crédit Agricole, Societe Generale Group, Groupe BPCE, Groupe Crédit Mutuel-CIC.
Top French Banks:

Crédit Mutuel is a French cooperative bank. With about 80,000 employees serving more than 15 million clients in 5,362 offices nationwide, the bank is considered as one of the biggest in the country.

Founded in 1864, Societe Generale is the third largest French bank in total assets and eighth ranked bank in Europe. The original name of the company was Société Générale pour favoriser le développement du commerce et de l'industrie en France or the English translation is the General Company to Support the Development of Commerce and Industry in France.
Crédit Agricole SA (CASA) is a central institution of the co-operative Crédit Agricole Group, one of France's largest commercial banks. Among the main bank's activities are credit cards, consumer banking, corporate banking, investment banking, mortgage loans, private banking, wealth management, asset management.

Caisse d'Epargne is one of the major country's banks, member of the BPCE Group, operating through a network of 17 mutual savings banks. The bank's subsidiaries are Natixis, Crédit foncier de France, Banque Palatine, OCÉOR, Nexity, Banque BCP.

Credit Lyonnais, also known as LCL since 2005, is a French bank with head office in Lyon. The close to 20,900 employees take care of 320,000 business customers and 27,000 corporate and institutional customers, over and above the 6 million. Besides servicing personal and commercial accounts, the bank also offers investment services such as securities brokerage, asset management, and corporate finance.

The French subsidiary of the HSBC Group was established on November 1st, 2005. The bank employs around 12,000 people and operates through a network of 380 branches in the country, offering banking and insurance services to expats, travellers and locals.

Natixis is an international bank, it has 22 000 experts present in 68 countries, developing activities in three main geographical areas: Americas, Asia-Oceania and EMEA (Europe, Middle East, Africa).

The retail network of the Banque Postale consists of more than 10,000 post offices where 30,000 professionals serving individual and corporate customers. Also all the bank's products available through telephone, Internet and mobile channels.