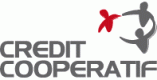 Crédit Cooperatif is a French cooperative bank, that provides all traditional banking services. Customers, both clients and associates hold 80% of its capital and form the Board of Directors. 
Crédit Cooperatif

,
Crédit Cooperatif Group includes the Crédit Cooperatif bank, its subsidiaries and associated credit institutions. The banks is a member of Groupe BPCE and has the status of Banque Populaire.
Credit Cooperatif is a full-fledged bank, it provides all types of banking products and services (however, it focuses mainly on the savings and loans). There are also provided investment banking and issued banking cards.
The bank's mission is to implement services for the social and solidarity economy. Following the logic of cooperative response to members' needs, it develops activities in co-production with its customers. It creates and manages financial tools dedicated to: mutual guarantee funds for medical and social associations, social tourism, innovative associations, etc. For SMEs / SMI, with their federations and unions, the bank created financial guarantee cooperatives to facilitate their access to credit.
Financial data:
Equity (2011): € 1.391 billion
Revenue (2011): € 406.3 million
Net profit (2011): € 51.2 million
Headquarters location:
Rue des Trois Fontanot 33, Parc de la Défense
92002 Nanterre, Paris
France
Crédit Cooperatif Contacts:
Tel.: 01 47 24 85 00
website (English)
Crédit Cooperatif

,
Rate this bank:
GD Star Rating
loading...
ATMs and Branches of Crédit Cooperatif: