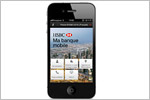 HSBC France is a subsidiary of HSBC Holdings the largest banking and financial institution in the world, active in over 80 countries in Europe, America, Asia-Pacific, Africa and Middle East.
Since its inception in 2005, HSBC France has managed to establish itself as a major player within the French banking industry. This has been made possible by the bank's innovative products that seek to comply with emerging trends within the country's banking industry.
HSBC Direct
This is an online/telephone direct banking that attracts customers through accounts, savings and mortgages. It was launched first in 25th November 2005 in UK, presently its fully operational in France.
HSBCnet
This is a service that offers specialized functions for different regions globally especially by catering for the business needs of local people.
This system provides services such as payments, trade services, cash management, research and analysis by accessing to transaction banking functions.
Internet Banking
The invention of internet banking marked a major milestone as far as activities within the global banking industry are concerned internet banking significantly enhanced the convenience with which people can conduct various forms of banking transactions thereby attracting more people to employ the services of various banks.
HSBC France is of the major banking institutions that have managed to successfully embrace internet banking, offering several features with the aim to enhance its security and functionality.
HSBC France provides, being a leading banking institution, a platform for internet banking, which enables clients to access a variety of banking services such as account information and daily transactions. For a HSBC France client to connect to online banking the following is necessary:
1.Go to the Access accounts section of the Personal section on hsbc.fr
2.Enter your ID, your memorable answer and the single use pass code generated by your HSBC Secure Key.
Once access is enabled the following services are available to the client:
1. View overall information on your banking accounts and balances on:
– Your current accounts
– Outstanding balances on your bank cards
– Your life insurance contracts
– Your securities portfolios
– The outstanding balances on loans.
2.View the last 3 months history of your current account and savings account transactions and of your transactions by deferred payment bank cards.
3.Check your e-statements and your annual summary of bank charges.
4. Order cheque books.
5. Cancel your bank cards.
6. View and manage accounts on which you have power of attorney.
7. Print your bank details.
8. Carry out and make transfers within France and overseas.
9. Set up standing orders in France.
10. Cancel or amend a standing order in France or an ad hoc transfer that has not been carried out.
11.View the history of your transfers in France.
12. Manage your transfer beneficiaries within France including overseas (addition, deletion, amendment).
13. Manage Libertel credit facility.
14. View and amend your account / personal details.
15. Sign up to several products and services.
HSBC Mobile Banking
Mobile banking service with HSBC France requires one to download applications that work on mobile phones that include iPhone, Android, Windows Phone and other platforms. The mobile application includes addition features that enable the client to find the nearest branch using the geo-location tool.
This service enables a secure connection where the client logs on to the HSBC mobile application with HSBC secure key. Through the mobile service permanent account access is enabled, the client can check for bank balance of accounts and cards and view transactions history. Mobile banking service enables easy transfers within France and overseas direct from the HSBC mobile application.
More about the bank:
Most popular articles: