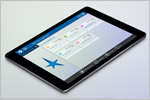 Credit du Nord Bank has over the years managed to obtain market leadership status when it comes to its online banking services in the country.
The company is indeed considered a pioneer in the country with respect to the integration of online banking services. The many years of experience have seen Credit du Nord streamline its online banking process to enhance the clients' experience with the system.
Online banking is an important service with respect to the operations of Credit du Nord Bank since it has served to increase the number of clients that the bank can serve. One of the main impacts of online banking within Credit du Nord Bank is the elimination of the need for physical visits by clients in order to carry out banking transactions. This implies that the number of customers that the bank can serve at any one instance is not limited by the size of its branches.
The ability to transact on a 24/7 basis is indeed one of the key advantages of Credit du Nord's online banking service. Clients can go to the bank's online portal and carry out various forms of banking transactions at any time of the day and on any day of the week. This serves to enhance the overall convenience of the clients since they can deposit, withdraw or even obtain their bank statements whenever they need to do so. Moreover clients can carry out the aforementioned transactions at the comfort of their homes, hotel rooms or any place they may be.
The online banking services enable customers to manage their accounts securely anytime, wherever they happen to be.
The following services are available to Credit du Nord customers 24/7:
– Checking of accounts and seeing details of all transactions over the past 45 days.
– Downloading online statements rather than paper copies.
– Making occasional internal and external transfers and setting up standing orders free of charge, register beneficiary accounts online.
– Drawing on or making repayments to Etoile Avance loan and checking on personal
and home loans.
– Ordering cheque books or a banking card.
– Allocating investments and/or making top-up deposits on insurance contracts.
– Setting text message or e-mail account alerts.
– Monitoring stock exchange movements via bank`s special mutual funds web site and on
financial information web site developed in partnership with Boursorama.
– Placing orders to buy/sell French-listed securities in real time and at highly competitive rates.
– Planning future projects using our online simulators
In addition customers subscription to the Credit du Nord online banking service include free monthly alerts where 6 are on standard transactions and 10 on stock market alerts.
The online services also include mobile online banking, that enables customers to access their accounts anytime and check their balances and transactions over the past 45 days. Besides, customers can use their mobile application to locate a branch or an ATM and have fast access to key telephone numbers such as account officer number.
Another advantage associated with online banking service is that online bankers can carry out transfers from their n computer. Online transfers to a bank within the European Union are free of charge. A fixed fee and foreign exchange commission is charged to one`s account for transfers outside the euro zone.
For anyone who is interested in opening an account with the bank, simply make an appointment with a client advisor in the branch which is the most convenient for you and carry with you the following documents to open an account:
– Formal identification (national identity card, passport or residence permit)- Proof of address (rental agreement, telephone, gas or electricity bill)- Proof of income (employment contract or wage slip).
To benefit from non-resident status you will need to provide the bank with proof of foreign domicile for tax purposes. i.e.:
– A certificate of residence- A copy of your latest foreign income tax statement,- A certificate of residence issued by an authority other than the tax administration.
After opening the account, you can subscribe to all the services offered by Credit du Nord Bank in France.
More about the bank:
Most popular articles: