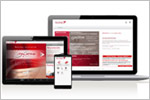 Expats and travelers need access to banking services in many locations, so it is necessary to use accounts via phone, Internet, or mobile service. At times, it is also important to have access to a branch office in order to speak to a banker in person. Banque Palatine offers all of these services. 
Banque Palatine, a subsidiary of of Group BPCE, has a long history in the banking industry. It was established in 1780 in Lyon, France and now has headquarters in Paris. The heart of Banque Palatine's business is retail banking with SMEs, private banking, and asset management.
BPCE is among the largest banks in France, ranking among the top 5 with 1.123 billion euros in assets and serving 36 million customers. Banks France gives Banque Palatine a 4.8/5-star rating, based on 268 votes cast.
Now Banque Palatine provides remote banking services through ePalatine and Palatine Exchange, so customers can manage accounts online, 24 hours a day. Wherever a client lives or travels, remote banking service provides access. This allows travelers to keep finances in one place while remaining in control.
Access to Banque Palatine online is available via Banque Palatine apps for iPhone, iPad, and Android smartphones or tablets. The current Banque Palatine mobile service app became available in August, 2014. The app can be downloaded from the iTunes App Store (for iPhone or iPad), or from Googleplay (for Android devices).
For individuals traveling or living overseas, Banque Palatine mobile services make it possible to manage accounts from any location. Mobile access allows a client to view accounts, check transactions or transfer money between accounts. It is possible to supervise money and account transactions anywhere.
With the app it is also possible to gather important information, including the phone number of an advisor and information about the nearest Banque Palatine branch. It can also provide a map to show the shortest route to any selected bank. When traveling in an unfamiliar area, the map feature can be especially helpful. In this way, the mobile service provides quality access online and in person when needed.
Branches of Banque Palatine are open in 52 locations in major cities throughout France. Main offices are located in Paris and in Lyon, with additional offices in areas from Lille in the north, Bordeaux in the west, Chamonix in the east, and several branches along the southeastern border.
Banque Palatine mobile service is secured with the use of an identifying PIN number entered on a virtual keypad. The password must be set via the web site and cannot be changed inside the remote app. This provides security for the mobile service. The application is called ePalatine SPECIAL. It is available free of charge for all customers who have subscribed to ePalatine INDIVIDUALS.
ePalatine offers customers the ability to:
– Monitor their checking accounts
– Monitor their savings accounts
– Check your credits / loans online
– See all their transactions
– See debit bank card balance and find an individual transaction
– Perform an internal money transfer
– Perform a transfer in SEPA (after adding a recipient agency)
– Make or cancel deferred or permanent transfers
– Follow the execution of transfers, check the history of transfers
– Order checkbooks
– Download banking statements / records (in Excel or PDF format)
Subscription to ePalatine SPECIAL is completely free and the service is available on mobile platforms as well
Banque Palatine mobile is compatible with both Android and Apple platforms.
Palatine Exchange allows customers to:
– Manage their financial portfolio and securities
– Make orders in the stock market and track them
– Access a variety of financial information (indexes, trend charts, etc)
– Find out about UCITS offer costs, features and performance
– Customize their own list of trading settings
Banque Palatine remote service can be accessed via Internet, mobile app, or telephone. The phone access is available without a subscription. It is available 24 hours a day, seven days a week, to learn the current status of an account, as well as the last three transactions (for a credit card) or four transactions (for a debit card).
Banque Palatine is located online at www.palatine.fr
More about the bank:
Most popular articles: