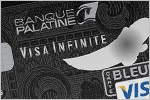 Being one of the oldest banks in France and a subsidiary of BPCE group, Banque Palatine has been offering banking services to both corporate and private customers.
The bank offers a variety of bank accounts, including Personal, Current, Business, Savings and Partner accounts for clients in France and all over the globe.
Personal accounts: A personal account is accompanied by cheque books and a debit card of the clients' choice. A debit card has limits and restrictions to its' operation as chosen by the client. Credit cards are prepared to be give to those who meet requirements during the account opening process.
Business accounts: Business account are accompanied by several sets of cheque books as required by the client applying for the bank account, and as many debit cards as necessary by the client opening the bank account. Business accounts are different, hence it is important to seek a client adviser at the bank branch for guidance.
Opening a bank account with Banque Palatine is very easy and quick. The client must provide a few details to the bank:
– Firstly the client must provide a valid passport. The passport aids in identification and provides basic information about the client such as his/her name, year of birth among other details that bank may need to know about the client. If someone is not a native of France he/she should provide a long stay visa, this aids in identification of the client.
– The client is also required to provide a proof of address, this is obtained from gas, electricity or landline bills.
– After these simple requirements, the Banque Palatine Bank will require a copy of the client's signature. This signature helps in the confirmation of the authenticity of any cheque/cheques to be processed.
After these requirements are met, Banque Palatine Bank will provide the customer with copies of his/her account information. This information is mainly useful when the client wants to transfer his/her salary to his/her account or when the customer wants to switch any direct debits he/she may have in place (for example rent and phone bills.) The client can then start using his/her current account and request from Banque Palatine a bank card and a cheque book.
After a successful account opening, the client/clients are offered with a bank card which contains the bank account number. Minimum charges may apply for the card and also when the client withdraws cash from cash machines. The bank card enables the client to withdraw cash from cash machines commonly known as (ATMs) or even pay for purchases made at supermarkets, gas stations or any other outlet that accepts payments using bank cards.
More about the bank:
Most popular articles: