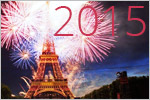 When it comes to public holidays, it is safe to say the two biggest holidays celebrated around the world are Christmas and New Year's Day. You will find Americans and Europeans celebrating these holidays because they both use the Gregorian calendar.
However, many countries around the world have their own holidays that are not shared with others. If they do, then it falls on a different day of the month or has a slightly different meaning to them. France is one of these countries. Their Labor Day is celebrated on May 1st instead of September 7th like in Western society. Then there are holidays that are completely unique to France and Europe.
Below is the list of public holidays in France, when all banks across the country remain closed announced by the government for 2015:
1 January, Thursday – New Year's Day (Nouvel an / Jour de l'an / Premier de l'an)
3 April, Friday – Good Friday (only in Alsace and Moselle)
6 April, Monday – Easter Monday
1 May, Friday – May Day/Labour Day (Fête du Travail / Fête des Travailleurs)
8 May, Friday – Victory in Europe Day (Fête de la Victoire); End of hostilities in Europe in World War II
14 May, Thursday – Ascension Day (Ascension); Thursday, 39 days after Easter Sunday
25 May, Monday – Whit Monday (Lundi de Pentecôte); Monday after Pentecost (50 days after Easter)
14 July, Tuesday – Bastille Day (Fête nationale); French National Day, commemorates the Feast of the Federation
15 August, Saturday – Assumption of Mary to Heaven (L'Assomption de Marie)
1 November, Sunday – All Saints' Day (La Toussaint)
11 November, Wednesday – Armistice Day (Armistice de 1918) End of World War I
25 December, Friday – Christmas Day (Noël)
26 December, Saturday – St. Stephen's Day (Saint-Étienne); Observed only in Alsace and Moselle
France celebrates "Victory in Europe Day," which is a special European holiday that symbolizes the Nazis' surrender to the allied forces during World War II. This ultimately led to the end of the war and a victory for the allied forces, which was comprised of all the nations that opposed the Nazis. So as you can imagine, this is a very celebrated holiday amongst Europeans such as the French. They also celebrate the end of World War I on November 11th, which is called Armistice Day.
France has their own religious holidays that are similar to other nations' holidays. France has Ascension Day, Whit Monday, St. Stephen's Day, and All Saints Day. Ascension Day is commonly known as Holy Thursday, which represents the day that Jesus Christ rose to heaven 39 days after Easter Sunday. As for Whit Monday, this celebrates when the Holy Ghost came down to visit the disciples of Jesus Christ in accordance to the Holy Bible's New Testament. Since France has a large Christian population, these holidays are especially important to them. All Saints' Day is a Catholic holiday that simply celebrates all the saints of the Catholic Church, which is referred to as a feasting day. Then finally, St. Stephen's Day takes place a day after Christmas. This holiday honors the first Christian martyr, Saint Stephen.
The true original and nonreligious holiday of France is Bastille Day, which takes place on July 14th. This is the French version of America's Independence Day. Bastille Day is a celebration of the French Revolution, which was a war that took place in France between 1789 and 1799. It was a war fought between the French peasants and aristocrats who formerly ran the country. After the fall of the aristocrats, France eventually became a country of nationalism and democracy. So as you can imagine, this is the country's most honorable and celebrated holiday of the year.
Most popular articles: