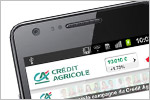 The Credit Agricole bank focuses on attracting the attention of native and foreign stakeholders to investment banking that boosts the market share in France and abroad.
Credit Agricole has done well to withstand the global financial crisis of the last decade and is now all set to target unprecedented development with some of its highly competitive measures.
Online Banking
Keeping an eye on the changing preference of its clients, Credit Agricole has ventured into E-commerce in order to provide its millions of stakeholders round-the-clock hassle-free service as internet banking makes financial transactions completely effortless.
The Credit Agricole online services can be availed irrespective of the type of bank account one has. It is no more a concern whether the client is present in France or outside.
Whether its clients are abroad on a vacation or occupied in their office Credit Agricole Online enables them to access their bank accounts through a secure gateway – anytime, anywhere.
Clients can be immensely benefited by this service:
– All queries can be answered online
– Balance can be checked- Market orders can be placed- Account statements check books can be requested
– Online share trading can be done most effectively with live market tracking and updated market news.
Moreover, the advisors may be contacted to know how one can avail discounts through these on-line transactions. So, now the bank is there wherever the client is.
Credit Agricole Mobile
ln recognition of the fact that the schedules of clients are getting tighter day by day, Credit Agricole has introduced innovative means of reaching them. It is not a bad idea to carry one's bank in one's cell phone.
That is precisely what Credit Agricole Mobile offers. The mobile wireless mini regular statements provide details of all recent transactions. The SMS alert notifies immediately as and when the
account is accessed or transaction has taken place. ln addition to this. all kinds of digital transactions can be made using the varied mobile apps. Using the iPhone and the mobile app one can visit the site ca-mobile.com, access an account and transfer funds or carry out similar tasks. The greatest advantage is the emergency service provider using which the clients can bring it to the notice of the bank if the account book is lost or stolen.
The application My Bank enables the clients to see the whole of their bank account right from the earliest entry to the latest, and more interestingly, it helps keep a watch on their budgets.
It also guides the clients to the nearest branches and counters by showing directions through maps.
More about the bank:
Most popular articles: