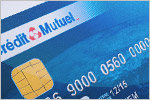 As a mutual bank, Crédit Mutuel possesses all of the financial services that you expect from checking, savings, loans and more. In addition, all of the options to meet your financial needs are presented online so that you can organize your finances in the manner you desire.
While Crédit Mutuel is known for their sterling services, low fees and excellent customer service, there are two areas where they excel in providing members with the best options for their needs, mortgage options and online banking.
Mortgage Options
Crédit Mutuel is dedicated to offering its members the most flexible mortgage options to meet their needs. There are essentially three types of mortgages available for the purchase of private or commercial properties:
– Conventional Charge
– Priority Lien Charge
– Institutional Guarantee
While most international members might be familiar with the structure of conventional mortgages, the institutional guarantee is used quite often in France because the combination of legal fees and the arrangement that is made offers lower rates than most mortgages.
Conventional mortgages offer a short term payment system with a "notaire" charging a small percentage to create the loan structure. The priority lien type actually goes back centuries and generally offers lower interest rates than conventional mortgages. However, there is no "equity withdrawal with this type of arrangement. The institutional guarantee is only available to residents of France, but it does offer very low rates for those with good credit scores.
Crédit Mutuel Online Banking
Crédit Mutuel understands the benefits of not having to call or stop by the bank to conduct your business. That is why they have set up extensive online banking services to meet your needs and exceed your expectations. You can check on all of your accounts, transfer money where needed, and find out all the information about your current status with the bank.
You can use your computer, smartphone or mobile device to check your accounts and transfer money when needed. In addition, you can subscribe to various products and services that are offered, go over insurance estimates and choose one if you desire and even create simulations for your savings and loan to see where you'll be down the road. Crédit Mutuel online banking services means that you can check your accounts from anywhere in the world with an internet connection.
For those who want to have the best in banking services in France and abroad, the bank offers their members all the advantages of traditional banks while working towards the needs of those they serve. Unlike commercial banks that are beholden to their owners, Crédit Mutuel works for its members when it comes to providing the banking services that are needed.
More about the bank:
Most popular articles: