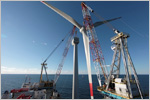 France has one of the largest economies in the world, the third economy in the European Union and the second in the euro zone. The economic crisis affecting the entire world economy, and the severe crisis of the euro area have a major impact on the French economy, suffering from rising energy prices, severe fluctuations of the euro and the dollar, and volatility in global commodity markets. 
In 2014, France was the 5th largest economy, after the United States, China, Japan, Germany, and ahead of the United Kingdom. In 2010, the value of its gross domestic product (GDP) was 2 675.9 billion, or 1 931.0 billion euros. In 2012, it ranked 35th in GDP per capita in PPP (Purchasing Power Parity), slightly above the EU average at 38th. In ranking by PPP GDP, France is the ninth economic power. In mid-2014, public debt exceeded 2.000 billion euros and exceeded 95% of its GDP.
The French economy is diversified across all sectors.
The government partially or fully privatized many large companies, including Air France, France Telecom, Renault, and Thales.
Nevertheless, the state retains a strong presence in some sectors, particularly public transport and defense industries.
The French economy is primarily a service economy. In 2005, the tertiary sector employed 71.8% of the workforce, while the primary sector (agriculture, fishing, etc.) only represented 3.8% and the secondary sector (mainly industry) 24.3%. The French economy is an increasingly open economy, occupying an important position in international trade, mainly within the European Union. France is the sixth country to its exports and sixth for its imports. In 2006, exports accounted for 26% of GDP and 27% of imports.
The trade balance (goods and services) went into deficit in 2004, and this deficit has increased in 2005 and 2006. The unemployment rate is higher than the average of other developed countries to 10.5%.
Tourism
At least 79 million foreign tourists visit France every year.
France is the most visited country in the world and maintains the third largest income in the world from tourism.
France remains committed to economic policy, in which social justice is achieved by means of laws and tax policies and social spending reduces income inequality and the impact of free markets on public health and welfare.
France Real GDP declined 2.6% in 2009, but increased slightly in 2010 and 2011, before stagnating in 2012.
Unemployment rate rose from 7.4% in 2008 to 10.3% in 2012.
Most popular articles: